Barebarics, hčerinsko podjetje priznane blagovne znamke Be Lenka, je znano po svojih sodobnih urbanih modelih superg, ki privabljajo mlajše občinstvo. Na trg so tokrat poslali še prav poseben čevelj, namenjen poletnim pustolovščinam v naravi, ki ga odlikuje sodobna mestna zasnova, s katero lahko brez težav preidete s sprehajalnih poti na mestne ulice.
V tej celoviti oceni bomo raziskali prepoznavne značilnosti, materiale in bosonoge lastnosti, po katerih se ti čevlji razlikujejo od konkurenčnih, kar vam omogoča, da se popolnoma prepustite poti in se podate na neskončno raziskovanje.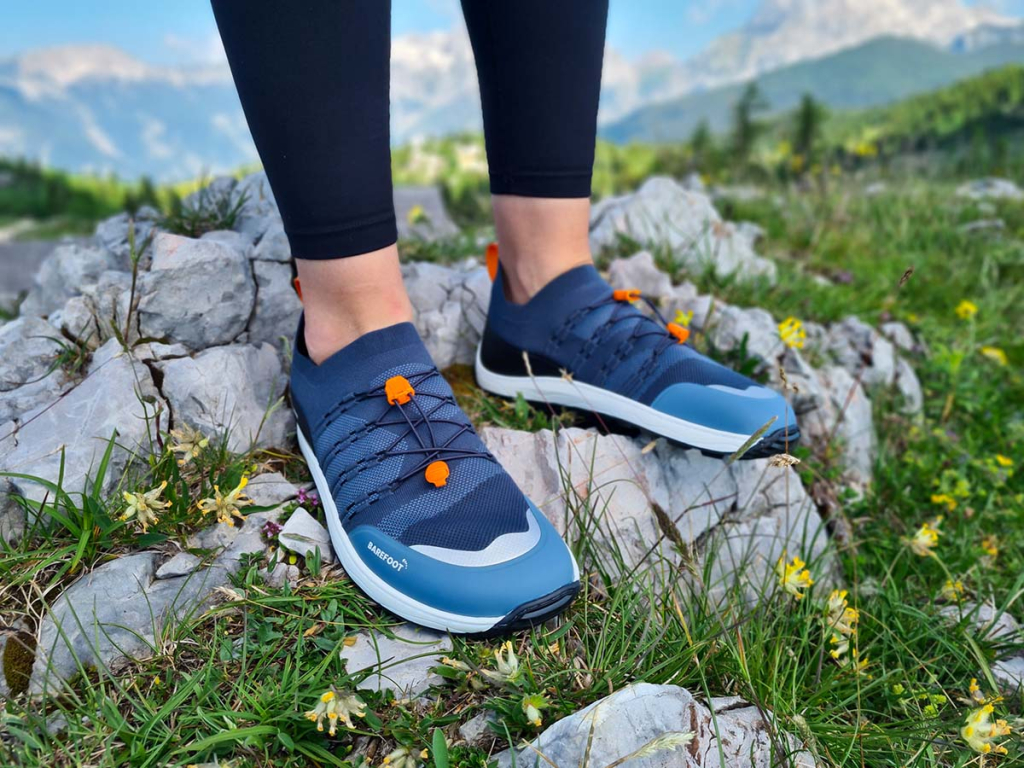 Obvestilo: Spletno mesto Bose Nogice podpirate bralci. Za izdelke, kupljene prek partnerskih povezav ali partnerskih kod v prispevkih, lahko prejmemo manjšo provizijo. To nikakor ne vpliva na našo vsebino in ocene, ki so naše iskreno mnenje. Hvala za vašo podporo! Več informacij najdete tukaj.
Uporabite BOSENOGICE za 5% popust
1. Splošno
Znamka: Be Lenka/Barebarics
Model: Voyager
Barva: Dark Blue & White, Beige & White
Testirani na: ženska, srednje široka do široka noga, dolžine 26,3 cm in širine 10 cm (10,3 cm med glavama metatarsalnih kosti), nizek nart, suhi gležnji z ozko peto, stopalo v obliki plavuti – glej vodnik za merjenje stopal in tip stopala – nosim velikost 42
2. Materialne karakteristike
2.1 Zgornji del
Čevlji Barebarics Voyager se ponašajo z izvirno barvno shemo, ki se gladko zlije z naravnim in urbanim okoljem, saj so na voljo štiri barve, ki ustrezajo številnim željam. Za živahen poletni videz sva se odločili za temnejšo modro-belo in svetlo bež-belo različico.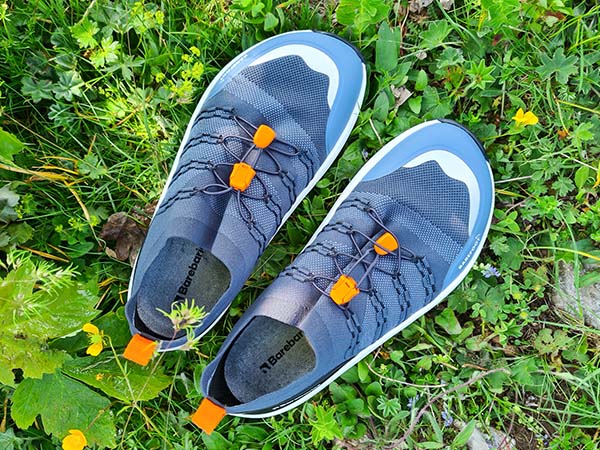 Ena od izstopajočih značilnosti modela Voyager je zgornji del, ki je izdelan iz zračnega mrežastega materiala. Ta lahek material zagotavlja optimalno udobje, zlasti v toplejših dneh, zato je idealen za suhe pohodniške razmere. Mrežast material ponuja ravno pravšnjo mero raztegljivosti, kar omogoča enostavno obuvanje, hkrati pa ohranja stabilnost med hojo, saj stopalo ne drsi z ene strani na drugo.
Ti čevlji so opremljeni s praktičnimi elastičnimi vezalkami in zaponko za natančno prilagajanje, zato jih lahko brez težav nastavite tako, da se optimalno prilegajo vašemu stopalu.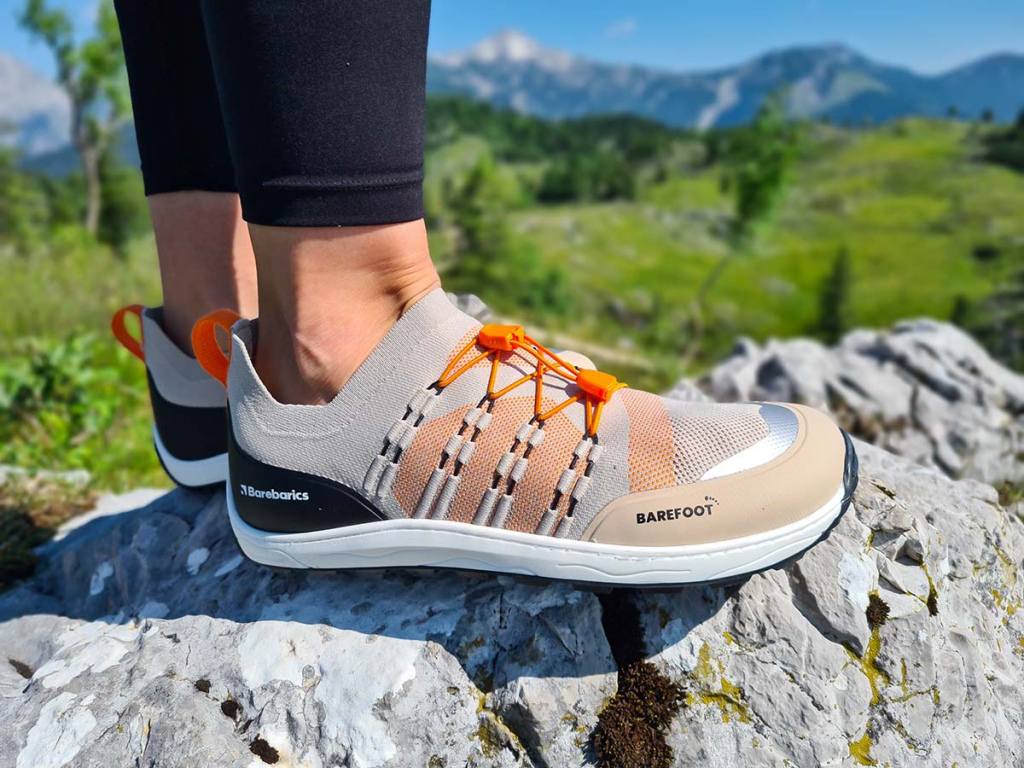 Čevlji Barebarics Voyager imajo odsevne detajle na sprednjem delu in peti, kar povečuje varnost v slabih svetlobnih pogojih. Ta premišljen dodatek znatno izboljša vidljivost, tako da se lahko samozavestno podate na pustolovščine v naravi, tudi ko sonce začne zahajati.
Poleg tega so čevlji Voyager zasnovani z gumijasto zaščito na peti in sprednjem delu, ki učinkovito ščiti pred blatom, prodom, skalami in koreninami ter zagotavlja vzdržljivost in dolgo življenjsko dobo na različnih terenih.
2.2 Podloga
Čevlji Barebarics Voyager v notranjosti nimajo dodatne podloge. Zgornji del iz zračne pletenine je tanek in zagotavlja optimalno udobje, zlasti v vročih in suhih poletnih dneh, zato so idealni za pohodništvo v toplem vremenu.
Snemljiv vložek je debeline 6 mm in je sestavljen iz frotirne tkanine in spominske pene. Ta kombinacija zagotavlja udoben in oblazinjen občutek ter zagotavlja prijetno hojo med vašimi pustolovščinami v naravi.
2.3 Podplat
Čevlji Barebarics Voyager imajo podplat PathGrip, z debelino 4 mm in profilom 4 mm. Globoki utori zagotavljajo dober oprijem in stabilnost med hojo po različnih površinah. Čeprav debelejši podplat nekoliko zmanjšuje prožnost, lahko še vedno uživate v svobodi gibanja in jih zvijete v vse smeri.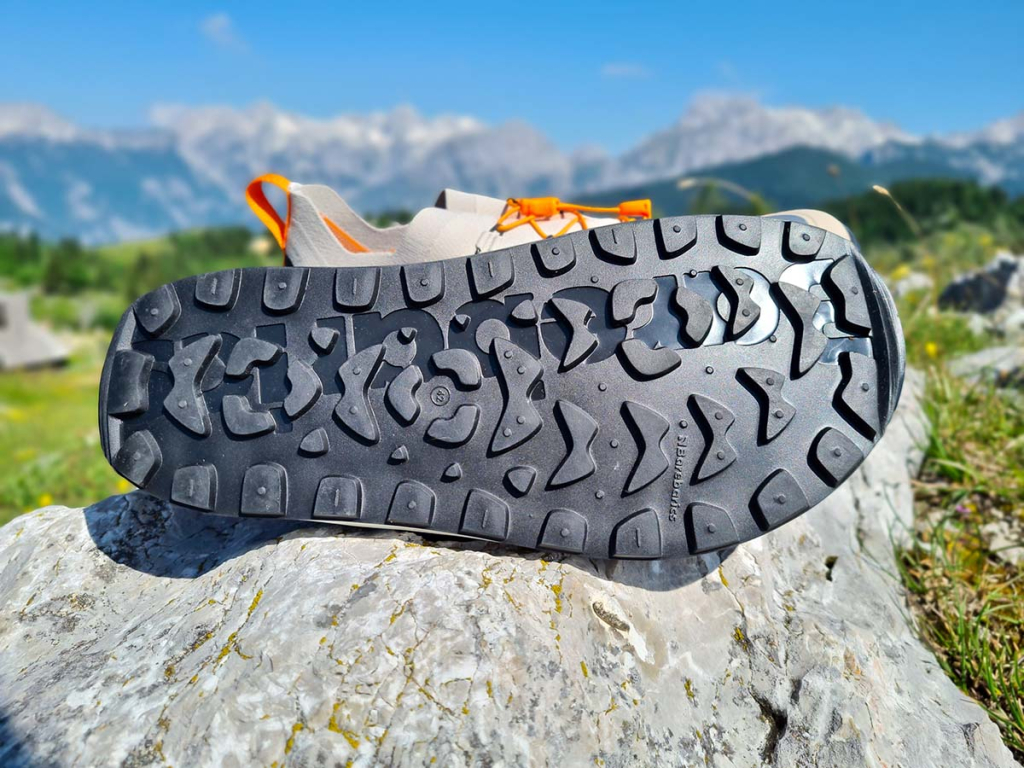 Čevlji s povečano debelino podplata, vključno z vložkom, zagotavljajo dodatno zaščito, blaženje in zmanjšano stimulacijo na kamnitih površinah. Zaradi tega so med pohodniškimi dejavnostmi še posebej prijetni za začetnike. Za izkušenejše navdušence nad bosonogimi čevlji, ki iščejo intenzivnejši občutek podlage, pa je model Be Lenka Trailwalker primerna alternativa, ki jo je smiselno upoštevati.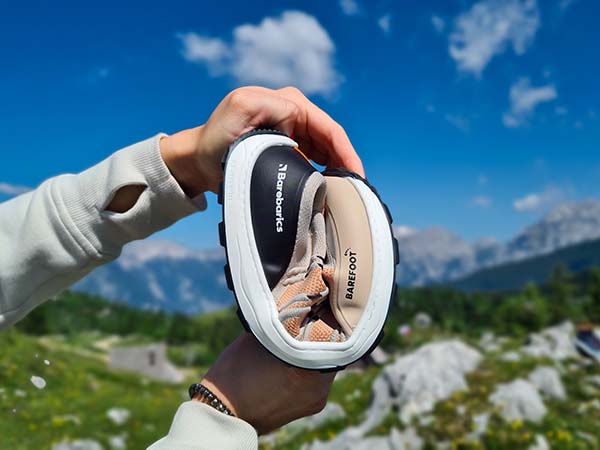 3. Informacije o velikosti
3.1 Dolžina
Čevlji Barebarics Voyager so zasnovani kot uniseks modeli in so na voljo v velikostih od 36 do 47. Vendar je pomembno opozoriti, da vse barve niso na voljo v najmanjši in največji velikosti.
Za zagotovitev ustreznega prileganja vam priporočava, da pred naročilom izmerite stopalo in si pogledate njihovo tabelo velikosti. Na primer, moje stopalo meri 26,3 cm, zato sem izbrala velikost 42, ki je za 11 mm daljša od mojega stopala. Vendar bi bilo sprejemljivo tudi, če bi imela še več dodatnega prostora pred prsti.
Omeniti velja, da se čevlji Barebarics Voyager plitvejši nad prsti. Da bi se temu primerno prilagodili, svetujeva, da se odločite za nekoliko več prostora pred prsti kot običajno, lahko tudi do 18 mm. To je še posebej pomembno, če jih nameravate nositi z debelejšimi nogavicami ali če pričakujete hojo po hribu navzdol. Za posameznike s širšimi ali volumensko bolj polnimi stopali je lahko pritisk zgornjega dela nekoliko neprijeten, zato lahko dodaten prostor pomaga ublažiti morebitno nelagodje.
3.2. Prstni del & širina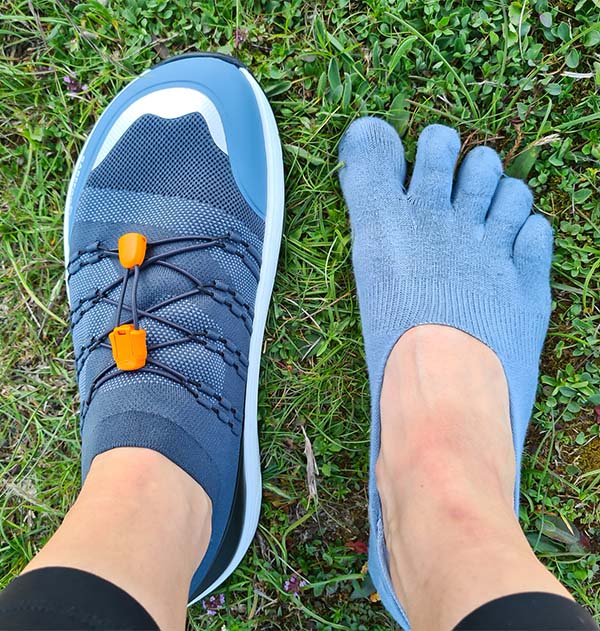 Oblika prstnega dela čevljev Barebarics Voyager je najprimernejša za stopala z najdaljšim palcem ali prvima dvema prstoma enake dolžine. Za posameznike s kvadratno obliko prstov pa bodo ti čevlji manj primerni.
Čevlji imajo manj izrazito obliko fižolčka, zaradi česar se lahko pri tistih z bolj izrazito obliko fižolčka palec stopala dotakne stranice čevlja. V takšnih primerih lahko pri izbiri velikosti z nekaj dodatnimi milimetri prostora pred prsti preprečite nelagodje zaradi zoževanja na koncu čevlja.
Čeprav so čevlji Barebarics Voyager izdelani na enakih kopitih kot njihovi drugi modeli, se v primerjavi z njimi zdijo ožji. Kombinacija debelejšega vložka in konstrukcije zgornjega dela ustvarja nekoliko manj prostoren občutek, zlasti zaradi zmanjšanega prostora nad prsti. Zaradi tega so ti čevlji najprimernejši za posameznike s srednje širokimi stopali in kvečjemu srednje širokimi do širokimi stopali, če imajo ta stopala manjši volumen.
Če želite pridobiti nekaj dodatnih milimetrov prostora, lahko izberete večjo velikost ali odstranite/zamenjate vložke, kar lahko zagotovi udobnejše prileganje tistim, ki potrebujejo več prostora.